janvier 27, 2015
PYRO JUMP Launching's post-mortem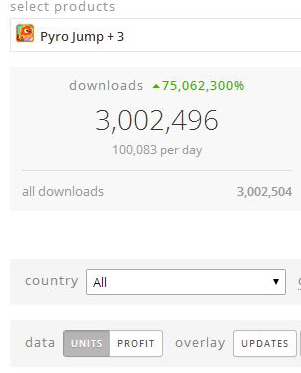 After one year of production, Pinpin Team has released its first game through mobile stores – PYRO JUMP – the 31st January 2014. To celebrate the 3.000.000 downloads of our successful game, we've decided to share this experience of launching a game on the AppStore ( And gets an AppStore Feature) and Google Play. We hope you enjoy this and can find some valuable information here.
1/ The AppStore Feature Effects
Thanks to the App Store Feature (here is a good article link to know how to get featured by apple) Pyro Jump has gotten off to a flying start all over the world just 2 days after its launching. We were featured more than 3570 times in over 155 countries and in 40 categories of the store like « Front Page, Games," « What we're playing », « Best new games » etc. On the feature peak we reached 320 000 downloads a day, wow that was cool!
A bonus effect with the AppStore feature is that you get immediately a free worldwide press campaign. Pyro Jump has got thousands of new articles, reviews and comments on video games websites, social networks, blogs and more. An interesting thing is that we have noticed there are more and more reviews on YouTube, and it's true that it's a perfect way to easily introduce a mobile game.  And some of the videos are very impressive because of their quality :
2/ Discovering the Chinese Market
With its cute graphics, Pyro Jump has received a special welcome from Asian people. It was a good surprise to see how Apple works well in China (it has about 30% of the total mobile Chinese market). Another surprise was to discover that there is no Google Play in China.
So, if Google Play is not in China, how our tracking tool (Flurry) indicated more than 450 000 downloads in this country but Google Play Statistics only 85 000 all over the world, what is the Answer ? It is simple : There are more android players with hacked versions than with official ones.
It's impressive to see how fast a hacked version is propagated on the Web. Only 1 hour after the launch on Google Play you can find illegal stores distributing your game. But finally we have realized that piracy is not so bad :  this massive distribution can help you to build a license for your game and it could even be a good thing for monetization (if you have included ads).
3/ The Ranking Waves
Only a few hours after being featured, Pyro Jump was ranked in the Top 10 Overall of many countries. Unfortunately this period was very short. Our AppStore feature was activated for one week when we noticed a big fall in all our rankings. But some days after the decrease, it seemed that the ranking bottomed out in some countries. Then the real work begins, we have to improve the quality continually of the game and have the patience to build strong ranking in the long term.
4/ Monetization
About this point we can say that the monetization rate was under our expectations. Pyro Jump is a freemium game : 12 levels are free and you can buy the complete version with 80 other levels with a 2€ In-App-Purchase (IAP). The Freemium business model is hard to master and we made some mistakes:
The funnel conversion was not well balanced.
IAP Pop-Up for buying game wasn't very clear and engaging.
And they were lots of other things like no push notification, too high pricing, buttons not clear enough, etc.
Anyway, we are not too worried, we launched a new version and the monetization rate is now much better (+300%)
5/ Next
First of all, there is online a new update (since Feb 27th), this update includes :
3 new free levels
Game Center's Leaderboards
Social network links
Push notification
Fixed bug for iPod4
Level design Funnel optimization
New languages (PT-RZ, PJ, ARA, KR)
Ads system (Mopub)
Then we will continue to put Pyro Jump on new devices.
And the big news : we are proud to announce a Pyro Jump 2 for the end of April 2014 with lots of cool new stuff!
Thanks for reading and feel free to leave comments,
Geraud
GET PYRO JUMP: